December 2017 (#7)
Issue: December 2017 (#7)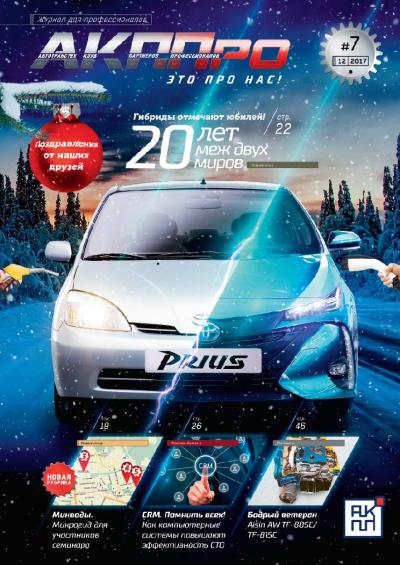 In the December issue of our magazine we gave a brief overview of the industry's key events of the year gone by: the international exhibition "The AKPP Territory" in Moscow (p. 10), the Best Tool contest (p. 12), the establishment of the Expert Board and its agenda (p. 14). And, of course, we told you about the "AutoTransTech" seminar that took place in August (p. 8).

Vladimir Nasonov shared his experience of the diagnostics and repair of the transmissions Aisin AW of the TF-81SC/TF-80SC family in our traditional column "Dismantling" (p. 48).
The Chrysler 845RE is a "sibling" of the ZF 8HP45, which is widely used in European models, their designs are almost identical. A more detailed description is given in Bill Brayton's article in the "Gears" magazine, the translation of which we included into our issue (p. 40).
How to keep your old clients loyal? How to attract new ones? You can leverage the Customer Relationship Management System (CRM), which in many cases becomes part of the enterprise management system. You will find out what these systems are capable of in our column "Business techniques"! P. 26
Twenty years ago, in December 1997, the first production hybrid car – Toyota Prius – came in retail. How have hybrid vehicles changed in the past two decades and how are they designed – you will learn the answers in the "Technology" column (p. 22).
"The portrait of the company" column of this issue is devoted to the "Center AKPP" in Ioshkar Ola. Its founder and head, Andrey Dudin, told the AKPpro reporter how his enterprise has been developing and how it attracts customers – on p. 34.
Valery Chusov
Editor-in-chief
Issue preview
Articles to read online
Aisin AW TF-81SC: A vigorous veteran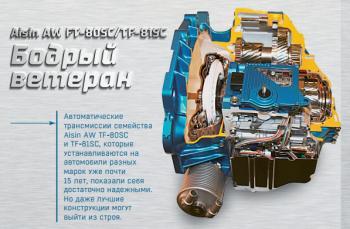 Aisin AW TF-81SC: A vigorous veteran
The Japanese company Aisin AW created the TF-80SC almost 15 years ago. The unit is intended for front-wheel and all-wheel drive vehicles with an east-west engine mounting. That is why the transmission is quite space effective – its length is a mere 358 mm. In order to have six gears in such limited space, the designers used the Lepelletier-type gearset (see "AKPPro" #3, p. 18). This transmission designed for the transfer of quite a high torque is installed in models of various vehicle classes – С (OpelAstra, Chevrolet Cruze), Е (Volvo S80), as well as CUVs (Mazda CX-7 and CX-9) and minivans, or multi-purpose vehicles (Renault Espace). These transmissions work with engines from 1.9 to 4.4 L, the torque limitation being 450 Nm.
page 46
Разборка