The AKPPro magazine: August 2017 (#6)
In this issue, you will learn how the Belorussian company KINERGO turned into one of the leading manufacturers of transmission repair tools and equipment and what values lie at the heart of one of the largest independent car-service stations in St.-Petersburg – "Diligence" – leading to its success.

Also in this issue, the technical trainer Alexey Kholodov talks about the design and repair peculiarities of the Italian robotized transmission Magneti Marelli Selespeed CFC 328.
Articles to read online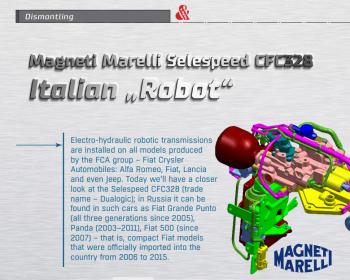 Magneti Marelli Selespeed CFC328 (DUALOGIC): Italian robot
August 2017 (#6), page 45
Electro-hydraulic robotic transmissions are installed on all models produced by the FCA group – Fiat Crysler Automobiles: Alfa Romeo, Fiat, Lancia and even Jeep. Today we'll have a closer look at the Selespeed CFC328 (trade name - Dualogic); in Russia it can be found in such cars as Fiat Grande Punto (all three generations since 2005), Panda (2003–2011), Fiat 500 (since 2007) – that is, compact Fiat models that were officially imported into the country from 2006 to 2015.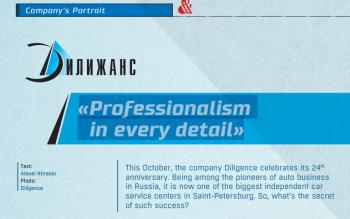 Diligence company "Professionalism in every detail"
August 2017 (#6), page 53
This October, the company Diligence celebrates its 24th anniversary. Being among the pioneers of auto business in Russia, it is now one of the biggest independent car service centers in Saint-Petersburg. So, what's the secret of such success?