The AKPPro magazine: November 2016 (#2)
I congratulate you on beginning of the new stage of the Russian car market. This year in Russia it's the first time in our history when the majority of the new passenger cars were purchased as equipped with the automatic transmissions. More Russian consumers make a choice in favor of the advanced technologies and their comfort. Now many manufacturers offer the automatic transmissioncars which are developed as the models within the average price spectrum. So, vast majority of Toyota, Subaru or Mazda offered in Russia are equipped with the automatic transmission. The Russian aftermarket of the used cars develops
more dynamically against the OEM car market. If considering repair business it's a good sign. The average age of the cars increases while life span of the units is limited resulting in increase of your clients' number, too. Businessmen understand the point, they are not engaged in repair service but they would like to earn supplying the services to the clients as well as offering the optimal prices for the consumers. One of the examples is CarFix the on-line service covered on Page 41.
It's the first time when in the issue of our magazine we have translated several articles in English. They are marked with a special sign which you might see above this text. I hope the Russian articles and news of our market shall be interesting and helpful for you.
Valeriy Chusov

Articles to read online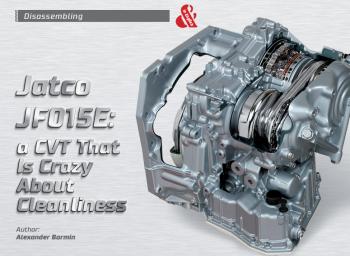 Jatco JF015E: a CVT That Is Crazy About Cleanliness
November 2016 (#2), page 44
Nissan is known for its broad use of CVTs rather than ordinary "automatic transmissions." It uses CVT-based Jatco JF015E transmission in its compact Qashqai and Juke cross-overs.